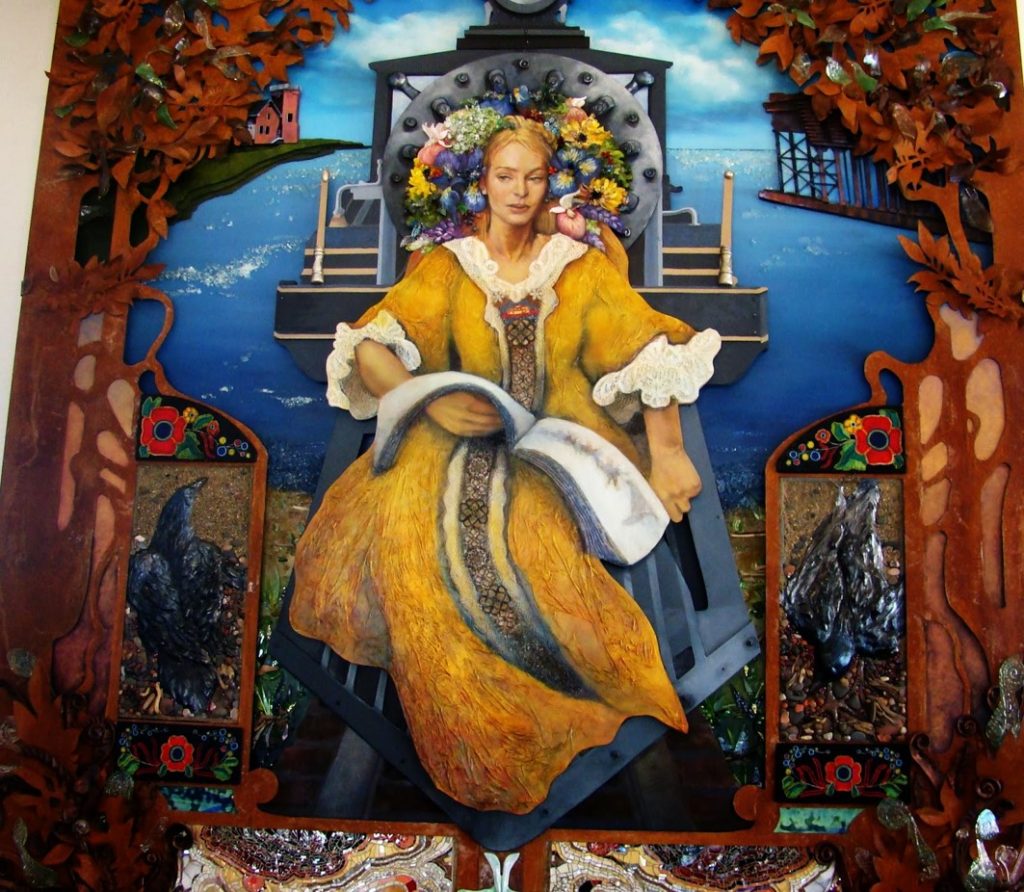 Project Overview
The Arrowhead Library System (ALS), through money from Minnesota's Arts and Cultural Heritage fund, has worked with regional public libraries and artists to create permanent public artworks for the public to enjoy.
When Legacy Funding for the arts first started, ALS decided to set aside the same amount of money each year to fund artwork for libraries in the region. As long as a library wants an art piece, they are added to the multi-year schedule, and the library system sets aside the funds for each of the 27 libraries.  Over the years, funding for this project has remained steady, even though overall Legacy funding to ALS has been reduced.  This is done in order to provide an equal opportunity for each library to purchase a meaningful piece of art for their patrons to enjoy.
For each art project, once the funding is secured, ALS contacts the next library on the schedule to begin the bidding process.  Each library is responsible for the bidding, selection, installation, and promotion themselves.  ALS takes care of the contractual paperwork and distribution of the Legacy funds.
Two Harbors Selection Process
The Two Harbors Public Library was scheduled for the year 2012, which is when the library announced the call for bids from artists.  A committee from the Two Harbors Public Library Board of Trustees was formed to review all the proposals and make the final selection.  The submitted bids covered a variety of art forms and would be positioned in different locations throughout the library, so the selection process was a difficult one.  Ultimately, Girl Reading on a Train, by Tonja Sell and Nancy Miller, was selected to be the official piece.
The individual components for Girl Reading on a Train, a mixed-media form of art, were created throughout the year 2013, and finally assembled and installed in one long weekend – January 18th – 20th, 2014.  The final result, which measures 8′ x 8.5′, rests above the upstairs fireplace, in the Carnegie portion of the library.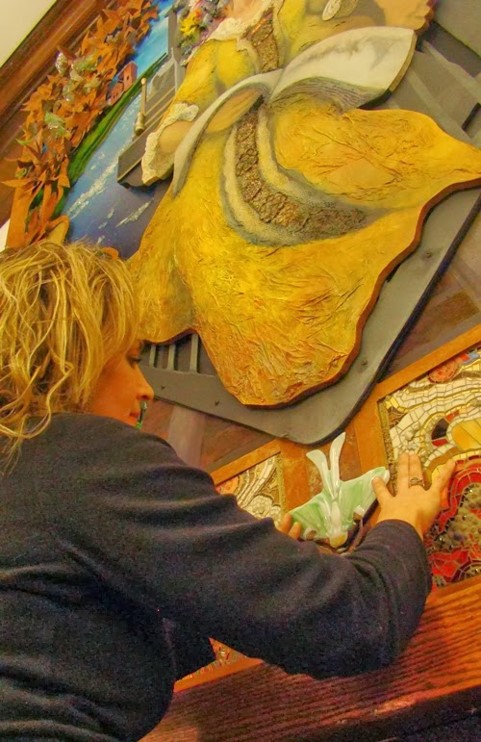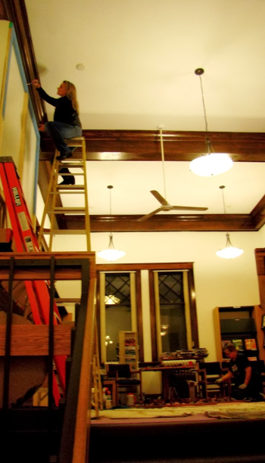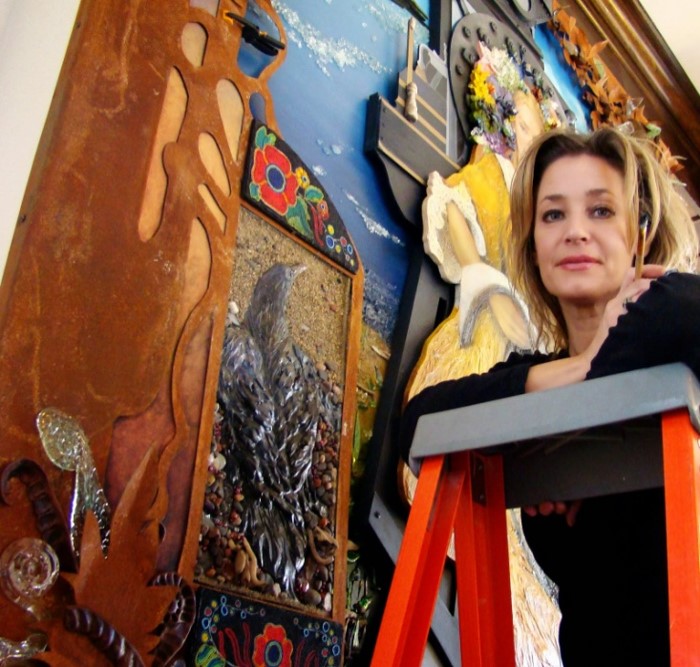 Pictures of the Creative Process and the Components of the Piece
The artists began with these basic drafts from which to work: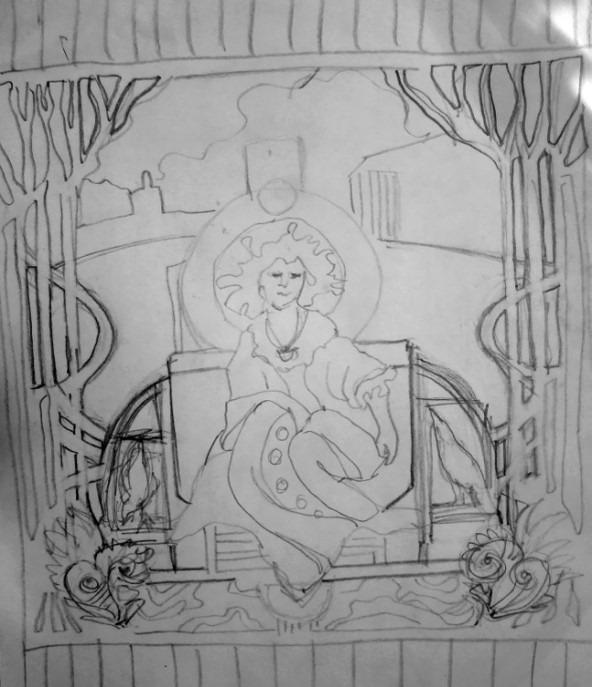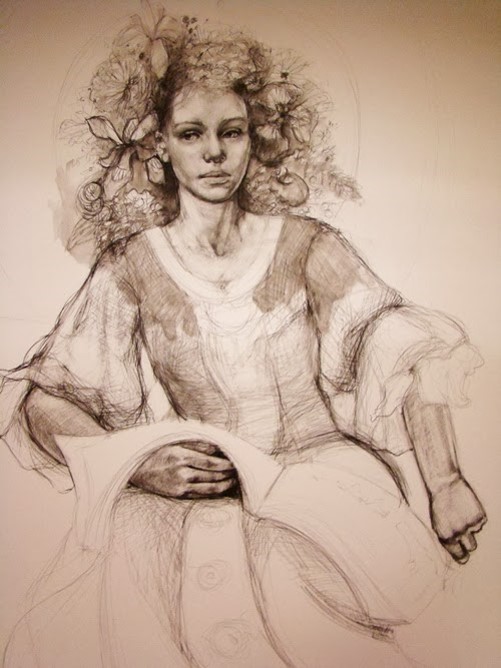 Fused glass luna months were kiln fired by Tonja Sell and placed between Nancy Miller's mosaic glass panels: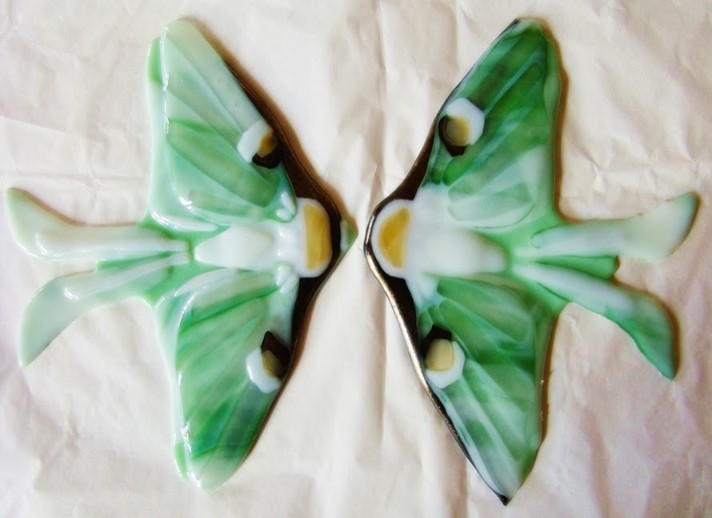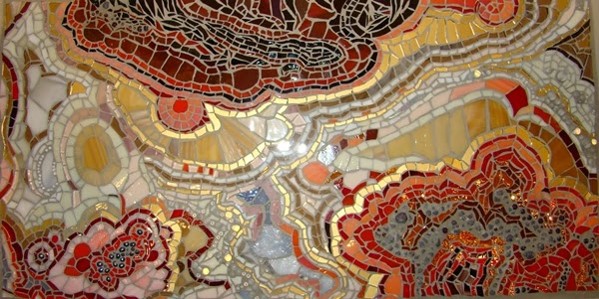 Ceramic leaves were painstakingly fired and hand painted: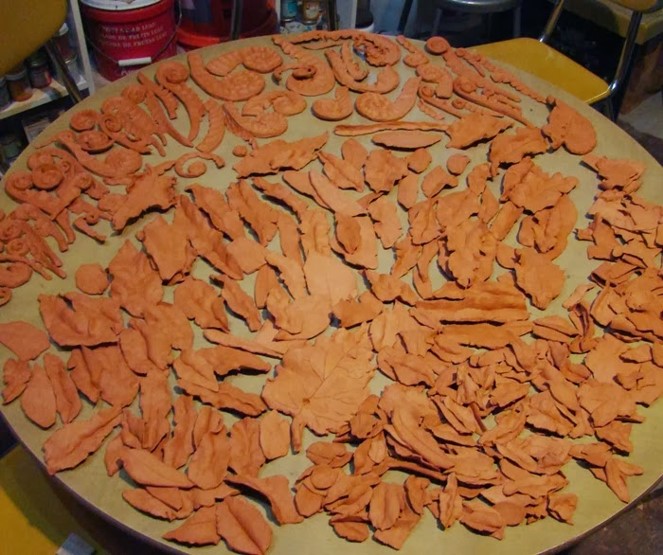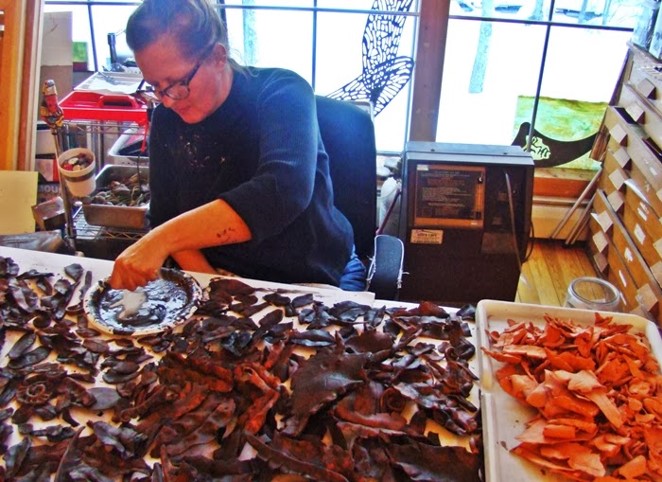 Fiddle-head ferns were forged and molded: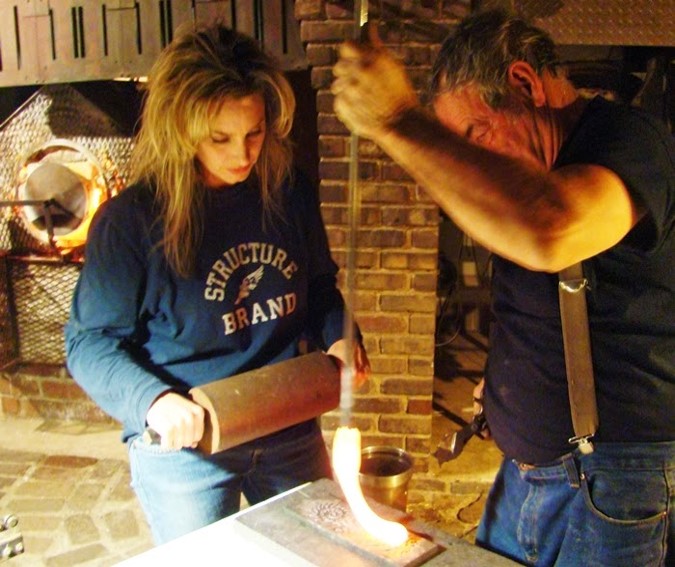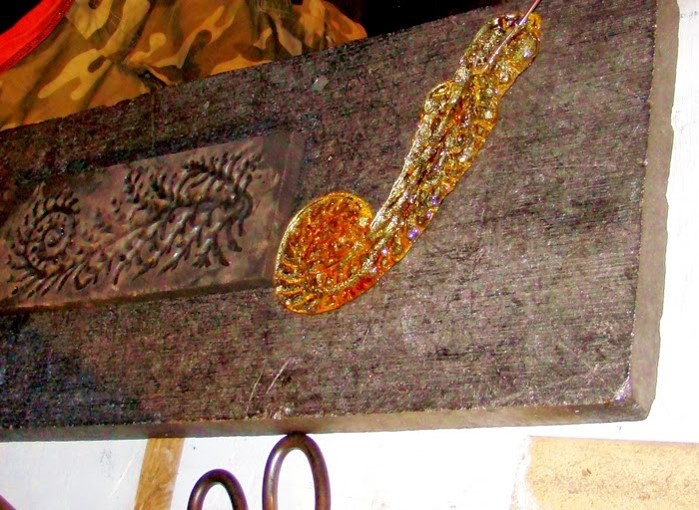 Steel was cut-out for the tree structure and carefully shaped before intentionally rusting the pieces: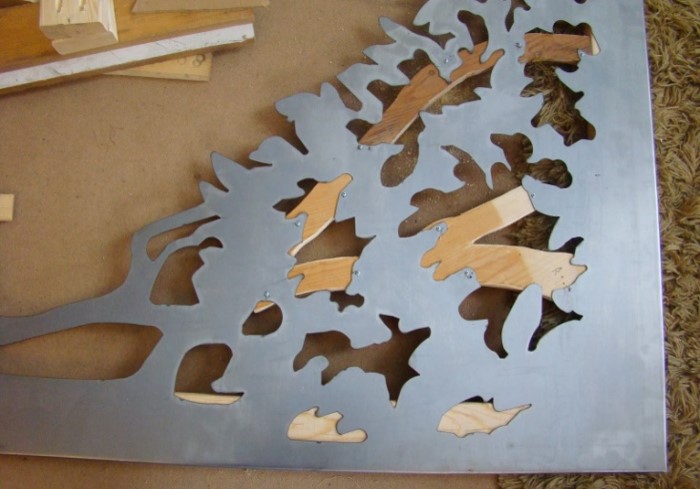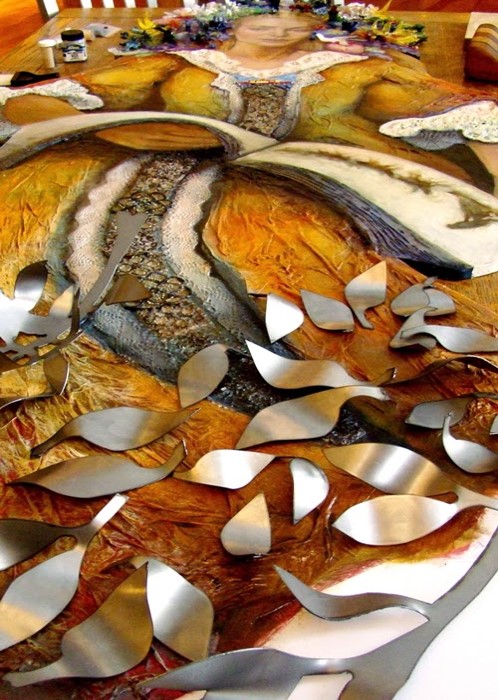 Graphite molds were tested with ceramic, then used to cast beautiful glass leaves: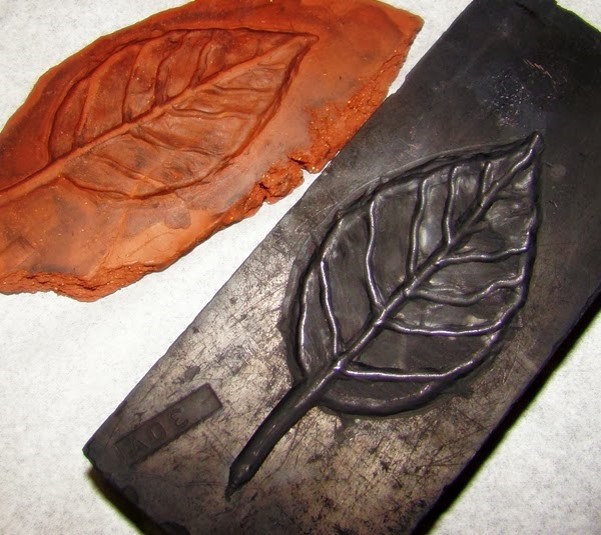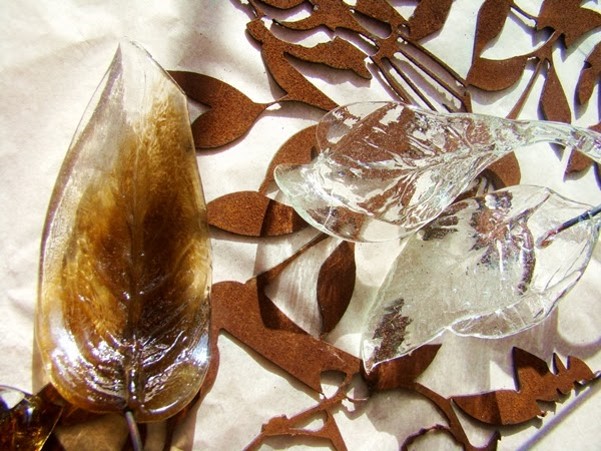 Agate and ceramic crow panels were created; one for each side of the mural: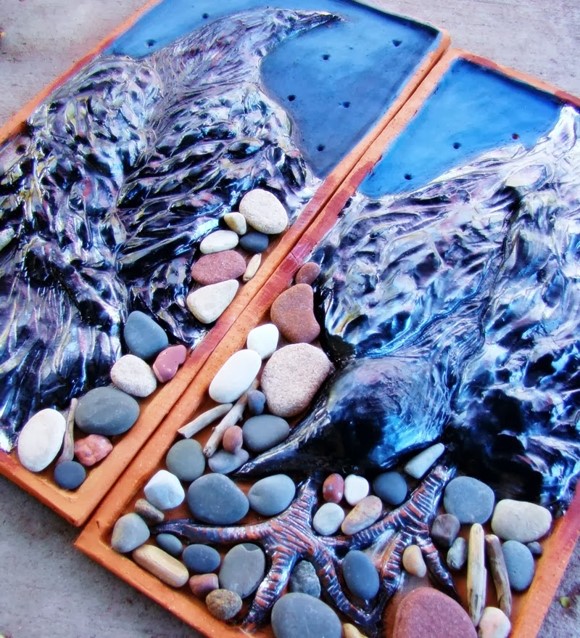 Lamp-worked glass flowers were created to rest in the girl's hair: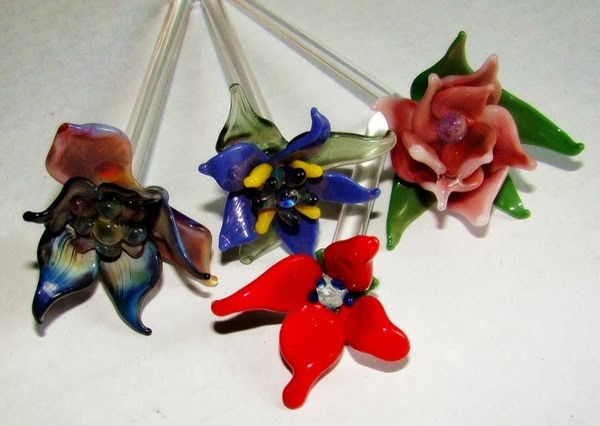 Local References Within the Artwork
There are many local references worked into the art, including the Two Harbors #3 Train, the Two Harbors Lighthouse, the Two Harbors Ore Docks, the Edna G. Tugboat, a book on the John Beargrease Sled Dog Race, and lamp-worked native flowers.  Upon careful inspection, you will likely be able to locate even more local icons and references as well.
About the Artists
Tonja Sell –
Tonja Vojacek Sell, born in 1968, is a Wisconsin native and daughter of glass artisans. Tonja attended the Milwaukee School of Art, where she studied fine arts, drawing, and illustration.
Tonja met her husband Matthew at M.I.A.D. After six years in Arizona, they returned to Northern WI to start a family and build their home, studio, and gallery near Lake Superior. Tonja continued to develop her work while raising and home educating their four children.
"I get lost in the works of Klimt and Degas, the romance of the Pre-Raphaelites, the figures Toulouse Lautrec and Egon Schiele. I am captivated by the human form, texture, layering and hidden images. Much of my work incorporates several media combined in unexpected ways. By working in mixed media I often build tactile surfaces that invite exploration. I want to pull you in, cause you to explore and move through my work.  I work in several different media including all paint and drawing media, printmaking, ceramic sculpture, blown glass and more. I love trying new things and learning through experimentation."
Tonja has been represented by galleries across the country and her work is in multiple private collections internationally. Some of her public work includes murals for the Carnegie Foundation, murals for the Minnesota Discovery Center, and a public sculpture for the City of Duluth.  Tonja enjoys working with clients to create unique portraits. She and Matthew also lead International Art Tours where students explore and paint with Tonja.
Nancy Miller –
Nancy Miller graduated from the University of Minnesota, Minneapolis and studied at the Folk Artist Wouterina de Raad's mosaic and sculpture workshops.  Her work with the First Stage Gallery Lyric Center for the Arts in Virginia, MN has helped her to promote art and art education in the region.  Her commissions and collaborations include:
2014   Two Harbors Carnegie Public Library; Two Harbors MN. Girl Reading on a Train.  Mixed media collaboration with Tonja Sell. Mosaic, mixed media, painting.
2013   Bess Metsa Memorial Arbor; Virginia, MN. Bess Metsa Mosaic Rose Sculpture.  Mosaic, mixed media, sculpture.
2012   Olcott Park Greenhouse and Botanical Garden; Virginia, MN. Olcott Park Greenhouse sign. Mosaic; steel frame with Cutting Edge Metals of Duluth, MN.